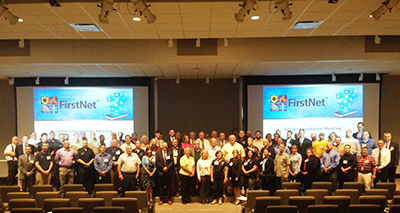 By David Buchanan, FirstNet Director of Consultation
The Ohio Initial Consultation meeting was held at the Ohio State Highway Patrol Training Academy with more than 60 attendees from across the state. Former Ohio Single Point of Contact (SPOC), Darryl Anderson, and his team set the stage for a great day of discussions and information exchange – an excellent opportunity for FirstNet to learn more about the state's broadband needs.
The participants represented a diverse variety of public safety interests in the states, and also included a number of representatives from academia, utilities, and the private sector. A summary of use case information presented during the consultation follows.
Use Case: Utility Telecommunications System
Pablo Vegas, President, American Electric Power
Utilities play a central role in keeping communication sites powered during emergencies. Increasingly, the success of the utility provider's mission depends on critical data applications. Examples include distribution automation systems to remotely monitor and control electrical equipment located down-line from a distribution substation, supervisory control and data acquisition systems to monitor and control the electric grid, and synchrophasors to provide real-time measurement of electrical parameters across the power system to assist with electric grid stability. Data transmitted over these systems is critical to the protection of people and property. System failure can result in fires, explosions, electrocutions, damage to electrical equipment and public property, and in a worst case scenario, injury or death. Given the importance of these systems, Mr. Vegas argued it is paramount for utilities to have priority access to a dedicated broadband spectrum. If granted priority access to the nationwide public safety broadband network (NPSBN), utilities could bring resources and funding to the initial construction of the network. Utility providers serve a critical public safety function and would make excellent partners and users on the NPSBN.
Use Case: October 2014 Akron Ebola Incident
Rick Schmahl, Chief Information Officer, City of Akron, Ohio
On October 10, 2014, Amber Vinson, a nurse who had recently treated an Ebola patient in Dallas, Texas, traveled to Akron to visit family and friends and make arrangements for an upcoming wedding. She returned to Dallas three days later, subsequently reporting Ebola symptoms. As news of Ms. Vinson's trip to Akron spread, panic ensued and public safety officials began monitoring residents who had come into contact with the nurse during her trip. They also placed two people in quarantine for the incubation period. To manage the incident, public safety personnel relied heavily on phone calls, text messaging, emails, Reverse 911 alerts, and activation of the emergency operations center. In the future, Mr. Schmahl envisions leveraging FirstNet to improve response capabilities in similar situations.
Specifically, he highlighted three potential capabilities: provisioning devices based on geo-fencing and credentialing; a FirstNet file sharing app with only the most up-to-date and correct information and documents; and a virtual emergency operations center with video conferencing, conference calling, and screen sharing. Fortunately, broadband connectivity remained functional throughout the Ebola incident, but officials received reports of congestion on the network. Priority access for public safety users could have mitigated this problem.
Use Case: LTE Applications for Rural Law Enforcement
Lieutenant Curtis Braniger, Guernsey County Sheriff's Office
Although Guernsey County is a rural jurisdiction with a population of only 41,000, the Guernsey County Sheriff's Office has deployed more sophisticated broadband capabilities than many of its counterparts serving more populous and urbanized jurisdictions. This is because, compared to larger agencies, the Guernsey County Sheriff's Office has fewer bureaucratic restrictions slowing the implementation of new programs and policies. Currently, the agency's police cruisers have access to E-911 mapping, remote desktop protocol with access to various databases, the Ohio Law Enforcement Gateway, the automated license plate reader system, traffic monitoring cameras, school safety plans, a school Internet Protocol camera bank, and a range of other resources. Each cruiser is equipped with a Verizon 4G LTE jetpack that acts as a router allowing for port forwarding for use with specific devices. The jetpacks are encrypted and equipped with an external antenna to increase coverage area, and each one can support a total of 10 Wi-Fi enabled devices connected simultaneously. FirstNet hopes to augment existing coverage so the Guernsey County Sheriff's Office can deploy even more robust capabilities in the future.
Thanks to the team for arranging the meeting, and to all those who took time out of their schedules to attend the consultation. We appreciate all of the valuable input we received. We look forward to continuing to work together with Ohio SPOC Stu Davis and team.
-Dave