Made up of a string of five volcanic islands, American Samoa is located in the South Pacific Ocean halfway between Hawaii and New Zealand. Slightly larger than Washington, D.C. in size, the territory's remote location makes reliable terrestrial and waterway coverage especially critical for American Samoa first responders.
The First Responder Network Authority team recognizes the unique communications challenges that American Samoa first responders face. We have been working closely with American Samoa public safety officials since 2014, capturing their feedback and translating it into the design of the FirstNet network. During the development of state deployment plans, our team worked hand-in-hand with American Samoa leaders to ensure the plan was customized to address their needs, including:
Extending coverage to the areas where island topology currently creates gaps
Making deployable network assets available to the territory
Leveraging existing infrastructure assets as appropriate
Offering feature-rich services at competitive prices
Following this close collaboration, American Samoa chose to adopt the plan and "opt in" to FirstNet. Today, we continue to meet regularly with territory and local officials to discuss their public safety broadband needs. A sample of our 2019 engagements with American Samoa public safety officials included a meeting with the Department of Homeland Security. An engagement like this is crucial to the ongoing success of the network and the advancement of public safety communications across the territory and the nation.
Connect with our team of Public Safety Advisors to learn about FirstNet in your community.
American Samoa's FirstNet Authority Public Safety Advisor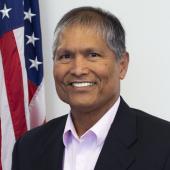 Kenison Tejada
240-848-0647
In weighing this important decision to join FirstNet or deploy our own system, our team came to the conclusion that opting-in to FirstNet was the better solution for American Samoa and our first responders.
Lolo Matalasi Moliga
Governor of American Samoa