Long considered a strategically important link between the United States mainland and Asia, Guam is primarily known for its tourism industry and the U.S. Armed Forces. With two military installations covering one-quarter of the territory and over one million tourists visiting the island annually, Guam's public safety entities have long needed consistent and robust data services to keep the island connected to neighboring ocean communities and to track the unpredictable earthquakes and wildfires that occur.
The First Responder Network Authority team recognizes the unique communications challenges that Guam first responders face. We have been working closely with Guam public safety officials since 2014, capturing their feedback and translating it into the design of the FirstNet network. During the development of state deployment plans, our team worked hand-in-hand with Guam leaders to ensure the plan was customized to address their needs, including:
Extending coverage to the areas where island topology currently creates gaps
Making deployable network assets available to the territory
Leveraging existing infrastructure assets as appropriate
Offering feature-rich services at competitive prices
Following this close collaboration, Guam chose to adopt the plan and "opt in" to FirstNet. Today, we continue to meet regularly with territory and local officials to discuss their public safety broadband needs. In 2019 alone, our team met with Guam public safety officials more than 10 times. Our engagements in Guam included the Western Pacific Islands Association of Fire Chiefs Training Forum, a meeting with Guam public safety, and visits and ride-alongs with Guam fire and police departments. Engagements like these are crucial to the ongoing success of the network and the advancement of public safety communications across the territory and the nation.
Connect with our team of Public Safety Advisors to learn about FirstNet in your community.
Guam's FirstNet Authority Public Safety Advisor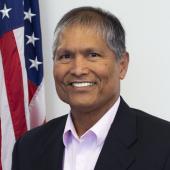 Kenison Tejada
240-848-0647