Georgia has a diverse landscape, including mountains, beaches, and thriving city centers, and the state has been experiencing rapid growth in recent years. With this growth comes a greater need for public safety services across the state.
The First Responder Network Authority team recognizes the unique communications challenges that Georgia first responders face. We have been working closely with Georgia public safety officials since 2014, capturing their feedback and translating it into the design of the FirstNet network. During the development of state deployment plans, our team worked hand-in-hand with Georgia leaders to ensure the plan was customized to address their needs.
Following this close collaboration, Georgia chose to adopt the plan and "opt in" to FirstNet. Today, we continue to meet regularly with state and local officials to discuss their public safety broadband needs. In 2019 alone, our team met with Georgia public safety officials more than 10 times. Our engagements in Georgia included attending the Georgia EMS Directors and Leadership Conference, meeting with the College Park Police Department, and participating in a rehearsal for a drill hosted by the Georgia Cyber Center. Engagements like these are crucial to the ongoing success of the network and the advancement of public safety communications across the state and the nation.
Connect with our team of Public Safety Advisors to learn about FirstNet in your community.
Georgia's FirstNet Authority Public Safety Advisor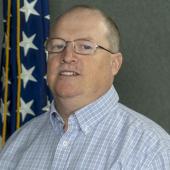 Gerald Risner
202-779-2995
We moved to the FirstNet system a few months before Hurricane Michael hit. And it was a no-brainer. Having the communications capabilities FirstNet provides was critical following the storm's devastation. Gaining that peace of mind around our communications meant we could focus on what mattered most — supporting our community.
Doug Cofty
Director of Colquitt Miller Emergency Services
---
FirstNet in Action in

Georgia
---
The Dallas Police Department in Georgia is the first in the state—and one of the first in the country—to completely switch from land mobile radios (LMR) to public safety broadband for their communications. Dallas Police Chief Joe Duvall shared how they made the decision to switch and how it's going so far.

At the beginning of the pandemic, first responders used at least twice as much data as general consumers. Public safety agencies need additional capacity or mobile broadband coverage in specific areas to meet their mission. Thanks to FirstNet, first responders have access to a dedicated fleet of deployable assets designed specifically to provide public safety extra coverage and capacity when and where they need it most.

When Super Bowl LIII came to Atlanta, the Fulton County E9-1-1 Center used FirstNet to support the backup center.