Although Florida is nicknamed the Sunshine State, it experiences a six-month hurricane season that tests networks and first responders' ability to connect and share vital data, especially with a lengthy 8,436 miles of shoreline to cover. Coverage, connection, and mission-critical features are vital to this state, which is one of the most frequently visited tourist destinations in the world — home to an abundance of theme parks, national parks such as the Everglades, and 10 major league sports teams.
The First Responder Network Authority team recognizes the unique communications challenges that Florida first responders face. We have been working closely with Florida public safety officials since 2014, capturing their feedback and translating it into the design of the FirstNet network. During the development of state deployment plans, our team worked hand-in-hand with Florida leaders to ensure the plan was customized to address their needs, including:
Expanding coverage beyond what is currently available, including coastlines and state-controlled waterways, with an emphasis on rural coverage
Offering feature-rich services at competitive prices
Following this close collaboration, Florida chose to adopt the plan and "opt in" to FirstNet. Today, we continue to meet regularly with state and local officials to discuss their public safety broadband needs. In 2019 alone, our team met with Florida public safety officials more than 20 times. Our engagements in Florida included the Florida Summer Sheriffs Conference, the Public Safety Roundtable, and meeting with the Palm Beach County School District Police Department. Engagements like these are crucial to the ongoing success of the network and the advancement of public safety communications across the state and the nation.
Connect with our team of Public Safety Advisors to learn about FirstNet in your community.
Florida's FirstNet Authority Public Safety Advisor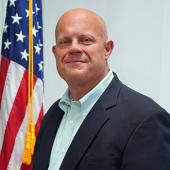 Jonathan Olson
240-474-8954
When it comes to natural disasters like Hurricane Michael, we're all in this together. And when everything else was down, FirstNet was working. It's helping keep our officers across the state stay safe and connected during their lifesaving missions.
Steve Casey
Executive Director of the Florida Sheriffs Association
---
FirstNet in Action in

Florida
---
Body cameras make the job of law enforcement easier and more efficient. They can improve situational awareness, provide details for reports, and help protect officers on scene. Officer Monica Lee of the Daytona Beach Police Department in Florida shared why her agency uses livestreaming body cameras for officer safety and tactical advantage.

Every year during the holidays, the city of St. Augustine in Florida is transformed by millions of holiday lights that bedazzle the city's downtown in an event called Nights of Lights. As visitors marvel at the twinkling lights, St. Augustine officials use FirstNet to ensure the event runs smoothly and safely for everyone involved.

One thing the 9-1-1 community learned from the pandemic was the need to plan for alternate ways to work. Rather than be tied to workstations at fixed locations, 9-1-1 telecommunicators need flexibility to remotely take, dispatch, and supervise calls. 9-1-1 leaders looked to technology for a solution. Through FirstNet, the nationwide public-safety broadband network, first responders had access to a secure, reliable connection outside of the ECC.

Palm Beach County 9-1-1 in Florida answers roughly 10,000 calls per month, making reliable connectivity critical to serving the community. When the pandemic hit, this became even more important as call takers and dispatchers needed remote capabilities to stay safe. The agency is using FirstNet to keep staff connected through SIM cards in routers, on 9-1-1 busses, and in "go-bags" that enable remote capabilities.