Located about 2,400 miles off the mainland United States, Hawaii's residents and public safety officials face connectivity challenges. Hawaii first responders need the ability to connect with each other to handle large events, like the statewide Aloha festival, which draws more than a million visitors each year, as well as severe natural disasters.
The First Responder Network Authority team recognizes the unique communications challenges that Hawaii first responders face. We have been working closely with Hawaii public safety officials since 2014, capturing their feedback and translating it into the design of the FirstNet network. During the development of state deployment plans, our team worked hand-in-hand with Hawaii leaders to ensure the plan was customized to address their needs, including:
Strengthening coverage and addressing communication gaps through investments in new infrastructure
Giving first responders priority access to the network to help them communicate more effectively during times of congestion
Providing first responders with access to dedicated, on-island network assets that can be deployed for additional coverage and support when needed
Following this close collaboration, Hawaii chose to adopt the plan and "opt in" to FirstNet. Today, we continue to meet regularly with state and local officials to discuss their public safety broadband needs. In 2019 alone, our team met with Hawaii public safety officials more than 25 times. Our engagements in Hawaii included attending the Hawaii Fire Chiefs Conference; the Hawaii Statewide Communication Interoperability Plan Committee meeting; and the Annual Lantern Festival, where the Honolulu Police Department used a FirstNet deployable. Engagements like these are crucial to the ongoing success of the network and the advancement of public safety communications across the state and the nation.
Connect with our team of Public Safety Advisors to learn about FirstNet in your community.
Hawaii's FirstNet Authority Public Safety Advisor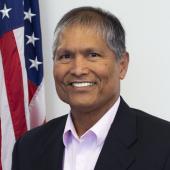 Kenison Tejada
240-848-0647
I believe this is long overdue. The 9-11 commission required that first responders should have interoperable communications. That's what FirstNet will provide to Hawai'i.
Maj. Gen. Arthur "Joe" Logan
Former Director of the Hawaiʻi Emergency Management Agency and Adjutant General of Hawaii