Rhode Island is the smallest state in the union — 48 miles long and 37 miles wide — but its dense population, robust economy, and close ties to its neighboring states make strong communications essential for the state's first responders.
The First Responder Network Authority team recognizes the unique communications challenges that Rhode Island first responders face. We have been working closely with Rhode Island public safety officials since 2014, capturing their feedback and translating it into the design of the FirstNet network. During the development of state deployment plans, our team worked hand-in-hand with Rhode Island leaders to ensure the plan was customized to address their needs, including:
Extending coverage over navigable waterways
Providing a "Bring Your Own Device" solution to Rhode Island's large contingent of volunteer first responders
Offering feature-rich services at competitive prices
Following this close collaboration, Rhode Island chose to adopt the plan and "opt in" to FirstNet. Today, we continue to meet regularly with state and local officials to discuss their public safety broadband needs. In 2019 alone, our team met with Rhode Island public safety officials more than 20 times. Our engagements in Rhode Island included attending the Rhode Island Fire Chiefs Meeting and Vendor Show, meeting with the Rhode Island Emergency Management Agency, and meeting with the Rhode Island Interoperable Communications Committee. Engagements like these are crucial to the ongoing success of the network and the advancement of public safety communications across the state and the nation.
Connect with our team of Public Safety Advisors to learn about FirstNet in your community.
Rhode Island's FirstNet Authority Public Safety Advisor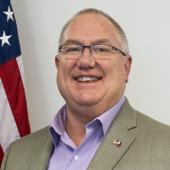 Gary McCarraher
240-449-9378
Without having the use of FirstNet and the FirstNet devices in Newport, it would have taken us hours to compile the data, relay it from one location to another, bring it in to the state emergency operations center, and then display it for the decision-makers. Having that real-time access to data and the guarantee that we wouldn't be interrupted by commercial network overloading in any particular area really made our response much more efficient.
Christopher McGrath
Operations Support Branch Chief, Rhode Island Emergency Management Agency
---
FirstNet in Action in

Rhode Island
---
As a part of the COVID-19 response, first responders are turning to FirstNet-enabled devices to make emergency communications efficient and effective during this critical time. From connecting socially distant 9-1-1 call takers to coordinating logistics for distributing personal protective equipment across state lines, FirstNet-enabled devices have played a supporting role in mitigating health risks in communities across the nation. When COVID-19 struck, Texas DPS required immediate and direct communications with local and state agencies to maintain traffic flow, manage state entry points, and monitor crowded areas across the state. Rhode Island Emergency Management Agency (RIEMA) used FirstNet-enabled devices to stay connected to partner agencies to prepare for and maintain pandemic-related services throughout the state.

First responders tested the FirstNet network during a routine emergency management exercise at TF Green International Airport in Warwick, Rhode Island. Despite being a significant distance apart, first responders stayed connected and were able to exchange information in real-time, making sure crash victims were tended to swiftly and properly.

In January 2019, a gas outage in Newport County, Rhode Island left over 7,100 residents without heat in frigid temperatures. Ruggedized FirstNet devices, WiFi hotspots, and GIS mapping software helped the Rhode Island Emergency Management Agency and local public safety agencies ensure residents were safe.

In May 2018, over 100,000 tourists and sailing enthusiasts descended on Newport, Rhode Island to witness one of the world's toughest sailings competitions. FirstNet outfitted first responders with FirstNet devices, which enabled fire, police, emergency management and EMS to stay connected and coordinated.