Located on a chain of volcanic mountain peaks and uplifted coral reefs, the Commonwealth of the Northern Mariana Islands is also home to a trove of archeological sites, prehistoric stone structures, and small villages that make the territory a popular tourist destination for thousands of visitors each year. However, emergency response efforts to protect citizens and visitors are often complicated by heavy rains and typhoons that strike throughout the year.  
The First Responder Network Authority team recognizes the unique communications challenges that Northern Mariana Islands first responders face. We have been working closely with Northern Mariana Islands public safety officials since 2014, capturing their feedback and translating it into the design of the FirstNet network. During the development of state deployment plans, our team worked hand-in-hand with Northern Mariana Islands leaders to ensure the plan was customized to address their needs, including:  
Extending coverage to the areas where island topology currently creates gaps 
Making deployable network assets available to the territory 
Leveraging existing infrastructure assets as appropriate 
Offering feature-rich services at competitive prices 
Following this close collaboration, the Commonwealth of the Northern Mariana Islands chose to adopt the plan and "opt in" to FirstNet. Today, we continue to meet regularly with territory and local officials to discuss their public safety broadband needs. A sample of our 2019 engagements with Northern Mariana Islands public safety officials included a visit and ride-alongs with public safety, a meet-and-greet with the commissioner of the Northern Mariana Islands fire/EMS, and the Region IX Regional Emergency Communication Coordinators Working Group. Engagements like these are crucial to the ongoing success of the network and the advancement of public safety communications across the territory and the nation. 
Connect with our team of Public Safety Advisors to learn about FirstNet in your community. 
Northern Mariana Islands's FirstNet Authority Public Safety Advisor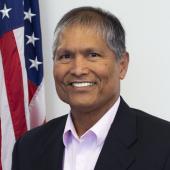 Kenison Tejada
240-848-0647