Home to lush, green mountains and scenic valleys, Vermont is one of the most rural states in the nation with only 68 people per square mile. With so much rural land, communications can prove challenging for local public safety agencies. The state's northern location also means first responders need to be prepared for winter weather-related incidents, which often occur quickly and without much warning.
The First Responder Network Authority team recognizes the unique communications challenges that Vermont first responders face. We have been working closely with Vermont public safety officials since 2014, capturing their feedback and translating it into the design of the FirstNet network. During the development of state deployment plans, our team worked hand-in-hand with Vermont leaders to ensure the plan was customized to address their needs, including:
Expanding rural coverage across the state, including the Northeast Kingdom
Making "Bring Your Own Device" solutions available to support Vermont's large contingent of volunteer responders
Utilizing state and municipal infrastructure assets as necessary and appropriate
Following this close collaboration, Vermont chose to adopt the plan and "opt in" to FirstNet. Today, we continue to meet regularly with state and local officials to discuss their public safety broadband needs. In 2019 alone, our team met with Vermont public safety officials more than 20 times. Our engagements in Vermont included meeting with the Vermont Public Utilities Commission, attending the Vermont Emergency Management Conference, and meeting with the Vermont Public Safety Broadband Commission. Engagements like these are crucial to the ongoing success of the network and the advancement of public safety communications across the state and the nation.
Connect with our team of Public Safety Advisors to learn about FirstNet in your community.
Vermont's FirstNet Authority Public Safety Advisor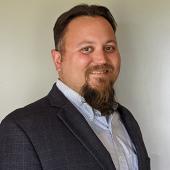 Bruce Fitzgerald
240-246-4738
It is important that Vermont's first responders have the best service and access to an interoperable network that is expected to advance and adapt with new technology through the next 25 years. Vermont faced the choice of building its own network or using the federal solution. After thoroughly considering the technological, financial and operational aspects of both options, I believe the federal plan will more quickly and sustainably provide our public safety community with the network it needs to continue its valuable service to Vermont.
Phil Scott
Governor of Vermont