Arkansas first responders face unique communications challenges, managing vast rural areas across the state, handling special events such as the Arkansas State Fair and the Bikes, Blues, and BBQ charity motorcycle rally, and coordinating interoperability issues with neighboring states. They also respond to a number of natural disasters each year, from fires and tornadoes to ice storms and flooding.
The First Responder Network Authority team recognizes the unique communications challenges that Arkansas first responders face. We have been working closely with Arkansas public safety officials since 2014, capturing their feedback and translating it into the design of the FirstNet network. During the development of state deployment plans, our team worked hand-in-hand with Arkansas leaders to ensure the plan was customized to address their needs, including:
Understanding the importance of serving the State's diverse coverage needs
Caring for coverage in rural areas and park and recreation grounds
Providing capacity in densely populated areas
Enabling access to dedicated network technologies that can be deployed in emergencies to support on-demand needs like search and rescue operations
Following this close collaboration, Arkansas chose to adopt the plan and "opt in" to FirstNet. Today, we continue to meet regularly with state and local officials to discuss their public safety broadband needs. A sample of our 2019 engagements with Arkansas public safety officials included the Arkansas Emergency Management Association Conference, the Arkansas Governance Board Meeting, and the Arkansas Association of Public-Safety Communications Officials/National Emergency Number Association Conference. Engagements like these are crucial to the ongoing success of the network and the advancement of public safety communications across the state and the nation.
Connect with our team of Public Safety Advisors to learn about FirstNet in your community.
Arkansas's FirstNet Authority Public Safety Advisor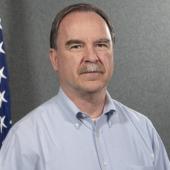 Thomas Randall
240-805-7758
Interoperability in our first response should be top notch, and so far with FirstNet, it has been.
Paul Keith
Bay Police Department Police Chief
---
FirstNet in Action in

Arkansas
---
When a violent tornado hit northeast Arkansas in March 2020, it caused major destruction to homes, businesses, and a shopping mall, mangling vehicles, damaging an airport, and derailing a train. Despite the wreckage, FirstNet kept first responders connected and communicating throughout the storm and its aftermath.