This blog is the third in a series highlighting the 5 Early Benefits of FirstNet for public safety. FirstNet is the nationwide public safety communications platform dedicated to America's first responders. Created through a public-private partnership between the First Responder Network Authority and AT&T, FirstNet is a much-needed technology upgrade to connect public safety to the vital information they need—every day, in every emergency.
The sharing of data via FirstNet is enabling first responders to have more information available at their fingertips to help with their lifesaving mission. Today, through over-the-top push-to-talk (PTT) apps, first responders can use FirstNet's always-on, reliable connection to collaborate — including sharing pictures, videos, texts, and other data in real time. With enhanced communications, public safety can be better prepared to keep themselves and the communities they serve safe.
Using a PTT app on a FirstNet device allows public safety entities to set up and access customized talk groups. First responders can then communicate and collaborate with a select group at the push of a button — whether that group is their typical response team, or a mix of first responders from across disciplines and jurisdictions. This collaborative tool offer first responders the advantage of communicating one-to-one and one-to-many. There is also the option to connect a PTT app to land mobile radio (LMR).
Today, public safety agencies are already experiencing the benefits of PTT apps on FirstNet as a collaboration tool. Recently, agencies have used AT&T's Enhanced Push-to-Talk app on FirstNet for:
Streamlined communications – Using FirstNet devices, incident commanders can easily create and manage one-on-one or multiple talk groups and channels for specific personnel. During the 2018 Boston Marathon, local fire, police, and incident response teams were able to communicate seamlessly using ruggedized FirstNet devices. Scott Wilder, Director of Technology at the Brookline, MA, Police Department, noted that the talk groups helped reduce unnecessary chatter so first responders were able to hear just the traffic that they need over the main radio.
"It's an easy application to learn and utilize," said Wilder. "FirstNet definitively enhanced our communications like we never had before. We are able to use our radio frequency over the FirstNet devices. We have talk groups for public safety and fire over the [FirstNet] device as well, so chatter that you don't really need to be over the main frequency is over to these other groups and the [main] channel doesn't stay congested."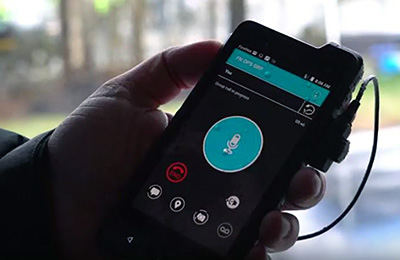 Brookline Police utilized push-to-talk features during this year's Boston Marathon to keep operational LMR channels clear.
Faster coordinated response – First responders supporting the 2018 Volvo Ocean Race in Newport, RI, saw how a PTT app can help speed up coordination and response. During the event, which drew over 100,000 tourists over 13 days, there was an incident that required emergency medical response. Incident commanders were able to use the PTT app to immediately contact on-site emergency medical professionals and dispatch the closest emergency medical services team to respond.
"Immediately, the way they were able to get ahold of EMS, was they went to the push to talk. They were able to call our Disaster Medical Assistance Team," said Tom Guthlein, Operations Section Chief, Rhode Island Emergency Management Agency (RIEMA). "There is 10,000 people down there, so the public safety personnel [on the scene] was actually able to use push-to-talk to get the medical personnel right to where the person was at." Used together with location-based services on FirstNet devices, RIEMA was able to provide updates on when help would arrive.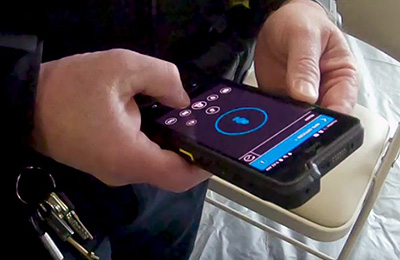 Rhode Island Emergency Management see early benefits of push-to-talk capabilities of FirstNet devices during 2018 Volvo Ocean Race.
Enhanced situational awareness – For the first time, emergency management teams at the 2018 Volvo Ocean Race were also able to digitally share evacuation plans and real-time weather reports during the large event. "We've been using them [talk groups] for sharing information," said Peter Gaynor, CEM – Director, Rhode Island Emergency Management Agency. "You set up talk groups and then all individuals, based on where they belong, are assigned to groups — so you get one-to-one individuals or you can get to specific groups."
By using the PTT app across FirstNet devices, the team was able to ensure information about changing weather and access to the necessary maps were readily available to public safety personnel should the event need to be evacuated.
To learn more about the First Responder Network Authority's public safety programs, visit FirstNet.gov and sign up for our newsletters here. For more information on FirstNet products and services, visit FirstNet.com.
Read more from the 5 Early Benefits of FirstNet blog series:
How FirstNet-enabled location services are enhancing situational awareness and public safety outcomes
Benefits of Priority and Preemption