Texas is the biggest state in the continental United States, covering 268,597 square miles. The state is home to many well-known private and public universities, and Texas is a leader in tourism, energy, and electronics. As a major hub for industry and with diverse terrain spanning a vast area, Texas first responders must be equipped with technology that helps them communicate, whether responding to hurricanes on the Gulf Coast, fighting wildfires in the plains, or securing both major cities and thousands of rural communities across the state.
The First Responder Network Authority team recognizes the unique communications challenges that Texas first responders face. We have been working closely with Texas public safety officials since 2014, capturing their feedback and translating it into the design of the FirstNet network. During the development of state deployment plans, our team worked hand-in-hand with Texas leaders to ensure the plan was customized to address their needs, including:
Expanding coverage and coordination with deployable solutions and additional investments beyond what is currently available with a focus on underserved public schools, hospitals, public safety answering points, the Texas-Mexico border, tribal areas, and hurricane evacuation routes
Using the investment, innovation, best practices, and lessons learned from the Texas Early Builder Program in Harris County to inform how the network can support response and recovery activities during disasters and large events while also informing the development of intuitive service solutions that will meet the expectations of the public safety community
Following this close collaboration, Texas chose to adopt the plan and "opt in" to FirstNet. Today, we continue to meet regularly with state and local officials to discuss their public safety broadband needs. In 2019 alone, our team met with Texas public safety officials more than 110 times. Our engagements in Texas included the Houston Area Police Chiefs Association Meeting, the Southwest Border Communications Working Group, and the FirstNet El Paso Regional Meeting. Engagements like these are crucial to the ongoing success of the network and the advancement of public safety communications across the state and the nation.
Connect with our team of Public Safety Advisors to learn about FirstNet in your community.
Texas's FirstNet Authority Public Safety Advisor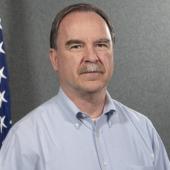 Thomas Randall
240-805-7758
I can't see us doing the events we do and managing those events in the future without FirstNet. The throughput and the ability to communicate through that cellular device has become the standard now for San Antonio.
James Glass
Deputy Director of the Southwest Texas Fusion Center
---
FirstNet in Action in

Texas
---
Today's firefighters must maintain connectivity, whether the mission takes them into remote wilderness areas or dense urban buildings. These places can be at the edges of where networks reach. By boosting signal strength, high-power user equipment on FirstNet helps firefighters stay connected wherever the call takes them.

When a rural fire in Brooks County, Texas engulfed 6,500 acres of land, the Falfurrias Fire Department faced significant communication and coordination challenges due to the remote location of the fire. FirstNet provided a solution to this problem with the deployment of a SatCOLT, a vehicle with its own cell site non-reliant on commercial power supplies, that provided crucial connectivity and support to over 40 agencies and public safety personnel. This subsequently enabled efficient mapping of the location, real-time weather updates, and seamless communication among first responders.

As a part of the COVID-19 response, first responders are turning to FirstNet-enabled devices to make emergency communications efficient and effective during this critical time. From connecting socially distant 9-1-1 call takers to coordinating logistics for distributing personal protective equipment across state lines, FirstNet-enabled devices have played a supporting role in mitigating health risks in communities across the nation. When COVID-19 struck, Texas DPS required immediate and direct communications with local and state agencies to maintain traffic flow, manage state entry points, and monitor crowded areas across the state. Rhode Island Emergency Management Agency (RIEMA) used FirstNet-enabled devices to stay connected to partner agencies to prepare for and maintain pandemic-related services throughout the state.

Burleson County is a small, rural county east of Austin in Texas. The Burleson County Sheriff's Office serves the county through law enforcement, corrections, and dispatch services. The Sheriff's Office launched its drone program to enhance situational awareness during emergencies and planned events. As a rural county, connectivity is key, and FirstNet ensures footage from the drones can be streamed back in real time to decision makers on the ground.